Game Music Treasury
A downloadable soundtrack
Get this soundtrack and 5 more for $24.99 USD
View bundle
LISTEN TO FULL 500+ TRACKS HERE
Game Music Treasury is the world's largest high-quality original music pack designed for royalty-free use in video games. Featuring 500+ Tracks, 18 Genres, & Live recordings of soloists, bands, vocals, & world-class orchestras, this music is used in over 1,000+ games!

FOREVER FREE UPDATES!
Who doesn't like FREE? Once you purchase Game Music Treasury, you'll receive free updates forever! I write new tracks for this pack every week and release periodic updates here on Unity several times per year. If you'd like to be notified immediately when these free updates launch, join my email list here.
IS THIS MUSIC RIGHT FOR MY GAME?
No music pack can truly serve EVERY game developer, so Game Music Treasury specializes in serving 5 Game Genres: Action, RPG, Metroidvania, Platformer, & Strategy games.

If you're developing a game in one of these categories (or a blend of these), your game is going to STAND OUT with this high-quality music. Retail value of this collection, if tracks were licensed individually, is $8,245. Bundled together, you can enjoy this massive collection for less than 2% of that cost!
THIS COLLECTION IS HUUUUUGE
With this massive 14 hours+ collection of loops, stingers, and one-shot tracks, you will always have high-quality music available at your fingertips! Game Music Treasury has everything you need, organized into 18 Genre folders for quick access:
Adventure
Ambient
Casual
Celebration
Combat
Dungeon
Energetic
Fantasy Orchestral
Hybrid Orchestral
Inspirational
Mysterious
Sentimental
Short Cues
Solo Piano
Somber
Suspense
Tranquil
Unsettling
SEE THE FULL 500+ TRACK LIST HERE

FULL COLLECTION BREAKDOWN
550 original high-quality WAV tracks (16-bit / 44.1 kHz)
295 full-track loops
128 tracks featuring live musicians
14 hrs. & 24 min. of music
18 essential game music genres
9.16 GB of music
Unlimited Royalty-Free license
HOLLYWOOD-LEVEL MUSIC AT A LOW PRICE
In my studio, I use over $25,000+ worth of industry-standard sample instruments, plugins, software, hardware, and production techniques in all of my tracks and include live recordings whenever possible. 128 tracks in Game Music Treasury featuring recordings of live soloists, bands, vocals, orchestras, including selections from the Los Angeles Philharmonic & Chicago Symphony Orchestra. Using high-quality professionally-mixed & mastered music is one of the best ways to instantly elevate the quality of your game.
As a video game composer, I've worked with dozens of indie game developers and most of them share one thing in common...a tight budget! While I continue to compose custom music for games, I desire to help out under-served indie game devs who desire high-quality Hollywood-level music without breaking the bank.
INCLUDES ALL 6 MUSIC PACKS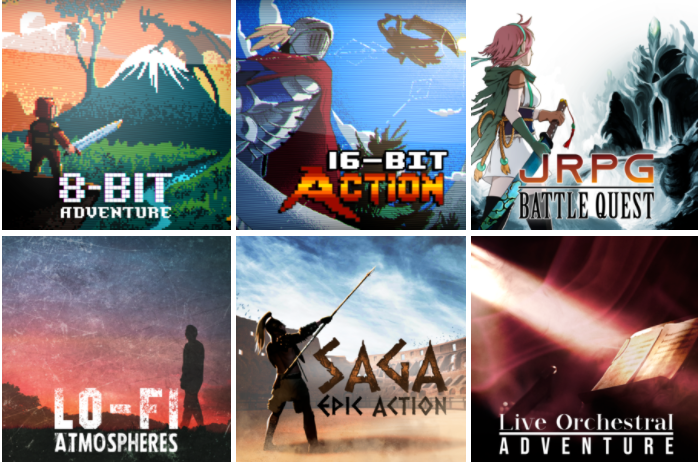 Read the End User License Agreement
GAME SFX TREASURY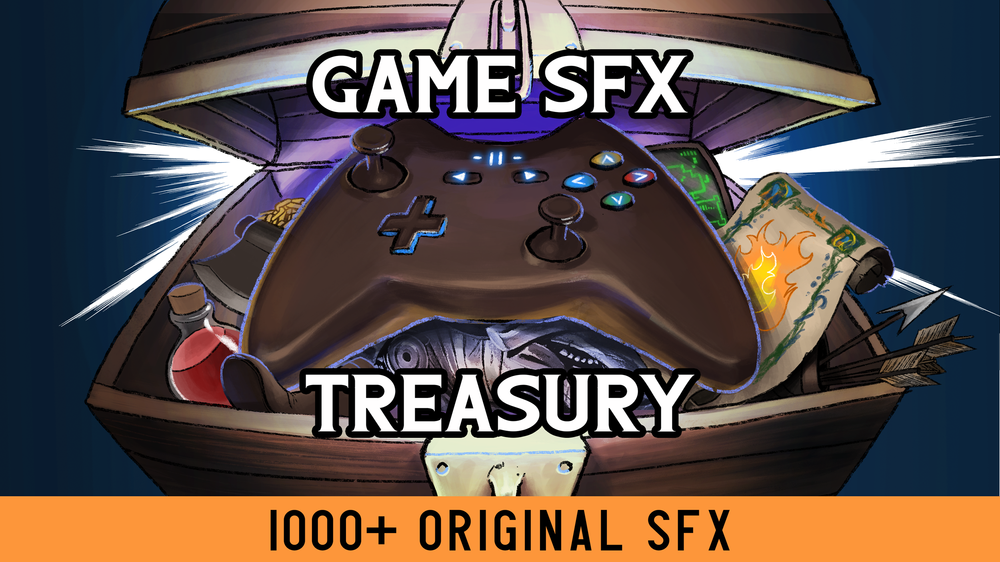 If you like Game Music Treasury, then you'll love my sound effects pack Game SFX Treasury, featuring 1,000+ SFX crafted for Action, RPG, Metroidvania, Platformer, & Strategy games. Like peanut butter & jelly, these packs are better together and will elevate the audio of your game!
Purchase
Get this soundtrack and 5 more for $24.99 USD
View bundle
In order to download this soundtrack you must purchase it at or above the minimum price of $49.99 USD. You will get access to the following files:
Game Music Treasury v1.2.zip (7.83 GB)
Comments
Log in with itch.io to leave a comment.
The tracks in this sound awesome. Definitely going to be considering this for my next game
Thanks so much! If you'd like to try a sample before you buy, check out my free Music & SFX pack featuring 18 music loops & 17 SFX from Game Music Treasury & Game SFX Treasury: https://www.stevenmelin.com/free-pack
Hi, Steven - I purchased the pack and when I tried to download it, the Google Drive link says that "File is in Owner's Trash." Can you help?

Hey! Sorry about that - you seem to have purchased right when I was transferring over to the new updated v1.1 file! The link is now correct. Shoot me an email if you're unable to access: steven@stevenmelin.com and I'll get that link to you ASAP.
I had a feeling it was in the middle of an update. Looks like it's fine now.

Thanks for the quick reply!

Hi, Steven~ How can I get the license of this pack individually?

Hey! I no longer license the tracks individually - part of why the bundled cost is so low is because I only sell these in a collection.
Just a heads up, the description says the cost is less than 1% of $7,515, but that would be $75.15 and it is selling for $299 (149 on sale). Not sure if the price was raised or the amount of music did but you may want to update that
Awesome music pack once again !

I made another gamejam using your music (bought, credited and linked) and finished 4th place this time, but 1st place in SFX/Music which is obviously thanks to you !

I used mostly music from the "ambient" and "somber" category and your music was perfect for the mood of my game.

If you are interested:
https://rockymullet.itch.io/fast
Hello, I purchased your music package and ran into a problem. All music is in uasset format. Unfortunately I am making a project in Unity and it does not work with the Unreal Engine data format. Is there any way to use them in Unity?
Thanks for letting me know! I just emailed you the correct files and updated the ZIP file here on Itch.